If you are looking for things to do with kids this summer, chances are at some point, you are going to end up at an amusement park!
I know that going to amusement parks with kids can seem overwhelming, but we have some tips for you to help you get the most out of taking your kids to almost any amusement park out there. I promise you, a little preparation goes a LONG way when taking your family to an amusement park. My husband rolls his eyes exhaustively at me while I'm getting ready for a day at an amusement park, but at the end of the day, it never fails....
When we are walking out, he looks at me and says, "Ok. You were right about needing to bring such and such. I couldn't have imagined the day without it. Good call."
#everytime
Macaroni Mama Tips to Taking Kids to Amusement Parks
Pregame:
☑️ Let's Talk Tickets - If possible, buy your tickets online, as they will often be cheaper than at the gate or even offer a bundled rate. We suggest checking https://www.certifikid.com to see if we have any CertifiKID deals going!
☑️ Transportation - Be smart, comfortable, and confident in your mode of transportation through the park. Consider a potential 4-10 hours of amusement park fun, depending on the ages of your kids. If you have toddlers, a stroller or wagon is a must. Even if your kids are out of a stroller, consider bringing a wagon for when they need a break or for lugging around a cooler or any stuffed animal prizes you find yourself adopting throughout the day. You can often rent strollers, wagons wheelchairs, and electric scooters for the day at the park entrance (check the amusement park website prior to arrival). Have older kids? While flip-flops and Crocs sound like an easy pick, I'm a fan of wearing socks and tennis shoes for whomever is going to be on their feet most of the day. But that's where YOU have to be confident and comfortable in what you decide.
☑️ Dress for Success - on summer days, lightweight, moisture wicking clothes are key. Hats and sunglasses are the only accessories I'd consider wearing, as long as you have somewhere to safely store them while you are on rides. My son usually wears his bathing suit shorts and shirt there and will just change into his dry clothes after the water rides. My daughter wears her bathing suit under her shorts and does the same thing. As cute as rompers and dresses are, unless you are planning to bring a full change of clothes after a water ride, I wouldn't suggest these. Last time we went to a big amusement park, my daughter wore her bathing suit under a romper, thinking she could just wear her bathing suit on the ride. The ride attendant told her she had to wear shorts, so she had to wear her romper folded down, but then didn't have a dry set of clothes since she was planning on putting that on over her dry undergarments. #momfail I'm also a fan of dressing the fam all in the same color or bright colors to be easily identified in a crowd.
☑️ Keep the Kids Dry - Just because we don't wear the Crocs and flops to the park, doesn't mean we leave them home. I pack a small bag for the kids with their flops or Crocs (along with a change of underwear and socks) and have them change their footwear before getting on any water rides.
☑️ Keep the Adults Dry - If I know I have to go on a water ride with my kids, I pack flip-flops for myself and my husband to preserve our own shoes. I also pack clear ponchos from the Dollar Tree and am the envy of all the parents who are drenched in dirty water by the end of the ride! 🤣
☑️ Prep a Park Bag - whether you are bringing a diaper bag to clip to your stroller or a backpack (don't forget your clip), some random park essentials I always pack are the clothes, extra shoes and ponchos mentioned above. Baby wipes, a few band-aids, sunscreen, ponytail holders, a pen (for writing on the park map), Sharpie (for labeling drinks, cotton candy bags, etc.), and foldable sunglasses case. Diapers, bottles, formula and binkies for when the kids were babies.
| | | |
| --- | --- | --- |
| | | |
☑️ Save your money for the good stuff - If you are looking for some ways to save some money, check to see if the amusement park you are visiting allows you to bring in any outside food and beverages and pack a lunch, drinks and snacks. We usually buy Hawaiian buns to pre-make a bunch of sandwiches, make a fruit salad, bring some chips and a TON of bottled water. That menu is perfect for lunch and/or snacking throughout the day. By packing a lunch and drinks, I don't feel bad splurging on a few games for the kids or the ice cream, funnel cakes, and cotton candy that we HAVE to get from the park ;) Don't forget the paper plates and napkins.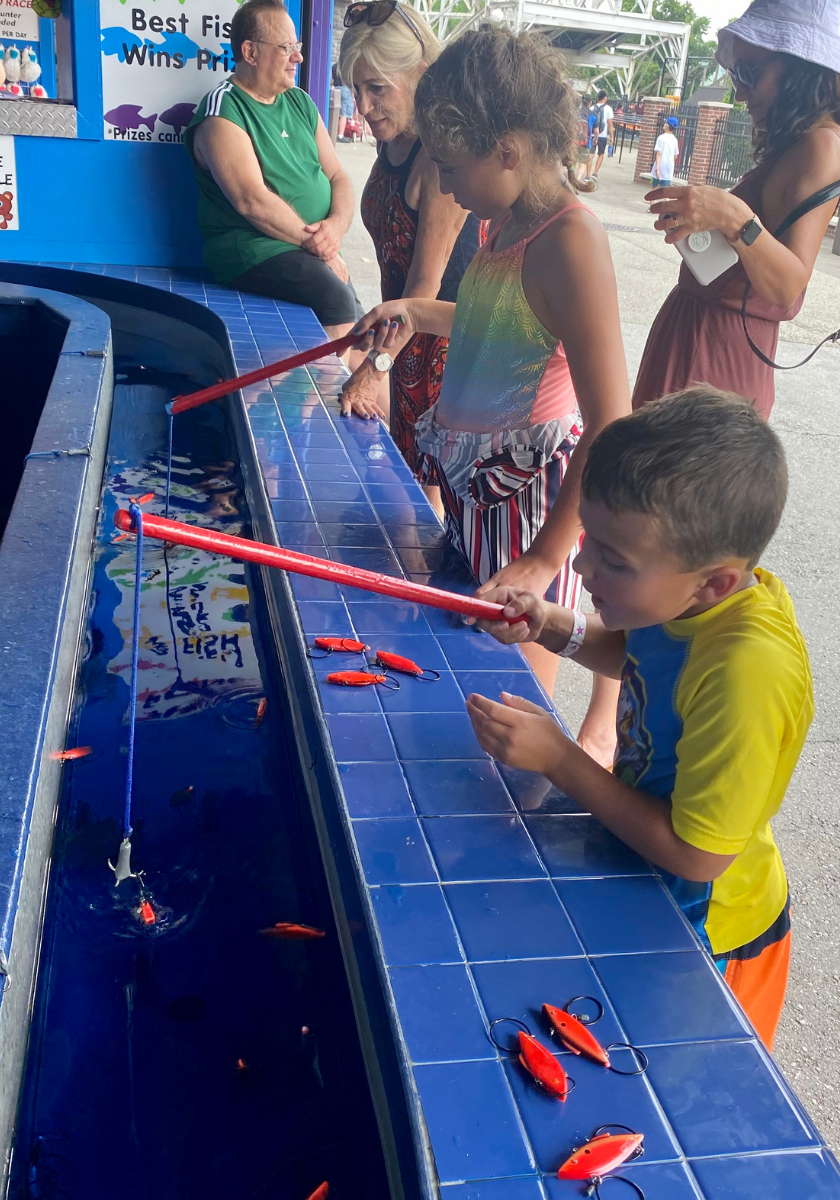 ☑️ Lock up the goods - Bring a bike lock if you want to secure your cooler to a picnic table while you are riding rides.
☑️ Know your limits - Print out a copy of your amusement park's ride height and safety requirements, so you know in advance what rides your kids can and cannot ride. This will give you an idea of where you might want to start in the park, and also help manage realistic expectations for your littles. We like to use this list to check off the rides as we ride them and rate how much we liked them.
Game Day
☑️ Slip one of your business cards in your kid's pocket or shoe with your contact information on it in the event you get separated. Even if they know your number, it's good for them to have in case of an emergency.
☑️ The Early Bird Gets the Worm - I'm a get there when the park opens kind of mom (which is odd because I am SO not a morning person). On amusement park day, though, getting there early is often worth it's weight in gold. The mornings are typically cooler, you can usually get on your favorite ride without a wait, and you're more likely to get an afternoon nap out of your littles after a fun filled morning. Plus, parks usually open about a half an hour to an hour before the rides do, giving you plenty of time to get situated without feeling like you have to rush to get in line.
☑️ Before entering the park, have your children measured at Guest Services to receive a wristband or stamp on their hand. This is SO helpful when you have a kiddo who is right in between height requirements. You avoid any discrepancies that might occur from irregular measurements taken prior to getting on a ride by showing your wristband.
☑️ Claim a Home Base - we did this as kids, and it has always stuck with me wherever we go (the pool, park, etc.). As soon as we get through the gates, we pick a spot in the park to be our designated home base - whether it's a picnic table, guest services, favorite ride, etc. We explain to the kids that in the event we get separated, we will come back to this spot and wait for them. We write the name of our designated spot on the business card that we put back in their pocket.
☑️ If it's your first time visiting the park, get a map from guest services (or online before you go) to familiarize yourself with the layout and find out times for any shows that might be happening. Many times it will make sense to work your way from the back of the park to the front, or chunk it off in sections. It makes it easier to navigate, leave in a timely manner, and prevents you from walking in circles throughout the day.
☑️ Bring a waterproof case for your phone to snap lots of photos, maybe even a battery pack. Enjoy the memories you will make with your family at your favorite amusement park and smile knowing you were prepared for the day!