Sparklers, while pretty are extremely dangerous and not meant for children. MacKID wants you to have a safe Fourth of July complete with some SAFE SPARKLERS! We have 2 crafts that are easy to do with the kiddos and just as pretty!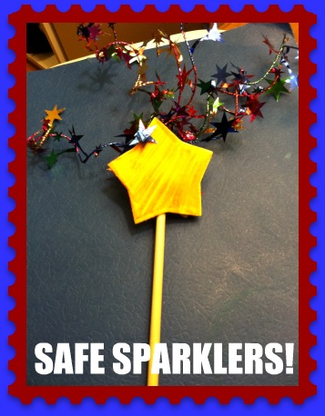 What you'll need:
12" wooden dowel
White acrylic craft paint (optional)
Gold glitter glue or paint (optional)
pipe cleaners
star garland
Scissors
foam stickers (optional)
How to make it:
Cut garland into six inch pieces. Gather all the pieces of garland together like a bouquet, If you can't find star garland at your local craft or dollar store use silver or gold foiled wrapping paper and cut it into strips!
Wind the bottoms of the garland together or tape the foiled stips together at the bottom.
Attach your garland bouquet to the top of the dowel rod by winding tightly, a pipe cleaner around the dowel rod and the garland. The pipe cleaner should now secure the garland to the dowel.
Repeat with second pipe cleaner.
Position the garland pieces so that it looks like a sparkler!
Optional Accessorizing:
Paint your dowel rod white, add some glitter or sparkle!
Add 2 foam stickers (larger stars) that are the same size and sandwich the garland at the top of the dowel rod with two stars.
Add in some strips of gold or silver foil paper!
Curl your garland into coils for an added effect!
---
This second pipe cleaner craft is great is you have younger kids (but we've found that even the older one like to make these) It's super easy and really great practice for little fingers. Plus, you only need one supply! Pipe cleaners! Any color will due, but for our 4th of July sparklers, we used red, white and blue glittery ones.
What you'll need:
8-16 pipe cleaners of varying colors (use some glitter ones for that sparkle).
pair of scissors
How to make it:
Once cut, cluster them all together at the bottom in any configuration you like.
Fluff and arrange your "sparkles" and TA-DA! Safe Sparklers for kids to use on the Fourth of July!
These craft ideas originally appeared in Macaroni Kid Pittsburgh West written by Deb Perry