Happy Monday Pittsburgh West! My morning started off rough; my family all overslept, my 9-year-old daughter was battling the fidget trade war and my 5-year-old refused to wear the outfit we had picked out, do his hair OR eat breakfast today for picture day. Oh yeah, and the motor on my milk steamer went kaput. That was all before 9 am.
On a positive note - it's Monday, the start of a new week and an unofficial day to start over. You know what? I think I am just going to start my Monday over right now.
---
Happy Monday Pittsburgh West! I'm finishing up the day strong by checking off the last things on my to-do list!
There's only 14 days left until Halloween and I feel like there is still so much more to do! Last week my little man had his school field trip to Simmons Farm where the kids enjoyed a hayride, field games, pumpkin picking and more. This weekend, the whole fam went down to the Strip District to watch a 2k lbs pumpkin fall from the sky at Pittsburgh Monster Pumpkins Festival. It was such a fun, unique experience, we'll definitely head back next year!
So while we've already had a bunch of fall fun, I feel like there is still so much more to do on my bucket list. If you need some inspiration, hopefully you've peeped out our Halloween Guide for local tricks and treats. If you're still adding to your bucket list, might I suggest a few things to add to it before the end of October?
1. Visit the Heinz History Center
Now through the end of October, children 17 and under can visit the Heinz History Center for FREE! This is a great time to grab your older kids and cross this off your Pittsburgh Museum bucket list! Order your timed admission tickets HERE.
2. Find Your Family Fun at the Pop Up techPlayground in South Side Works before it's gone!
3. Host a Spooky Party!
We set a date for our annual Pumpkin Carving Party and I can't wait! If you love a good themed party, have we got some exciting news for you! Macaroni KID has teamed up with Boxx My Party to give away one of their Vintage Halloween Boxxes to one of our readers! While this contest is running on the South Hills site, I know the publisher, and she told me you can go ahead and enter ;) Check out the contents of the box and enter to win here!
4. Get your costumes ready!
We have been in the works with my daughter's DIY costume, but my son on the other hand.... he's being a bit more picky. One of the coolest events I attended a few years ago was a Halloween costume swap. I thought it was genius. Maybe next year we'll organize a physical location, but for now I thought we could try a virtual swap for parents who are looking? We've also seen some great finds at Good Will and Once Upon a Child! Already have your costume?? Wear them as much as possible! Hit up a Trunk or Treat (or two) or join us on Fridays at 👻 JumpaBOO at Urban Air!
5. Head to the Pumpkin Patch!!
We went to Trax Farm for my son's field trip and had a blast! Looking for other options?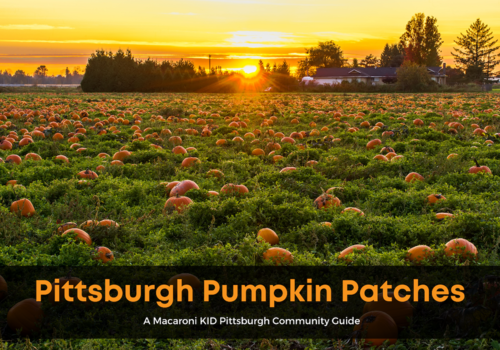 Pittsburgh Pumpkin Pickin'
---
Every month, Macaroni KID offers a different magazine subscription to our subscribers as a way to show our appreciation. There are no strings attached, no credit card numbers to enter or offers to redeem. This month, the magazine of the month is HGTV! Get your home holiday ready with some inspiration from HGTV Magazine by claiming your subscription HERE.
Have a great week!