Happy Valentine's Day!
What are you doing to make today special for your loved ones? I feel like we kept it pretty simple this year, but sometimes simple is just perfect. Here's our lineup of this mornings' Valentine's Day love!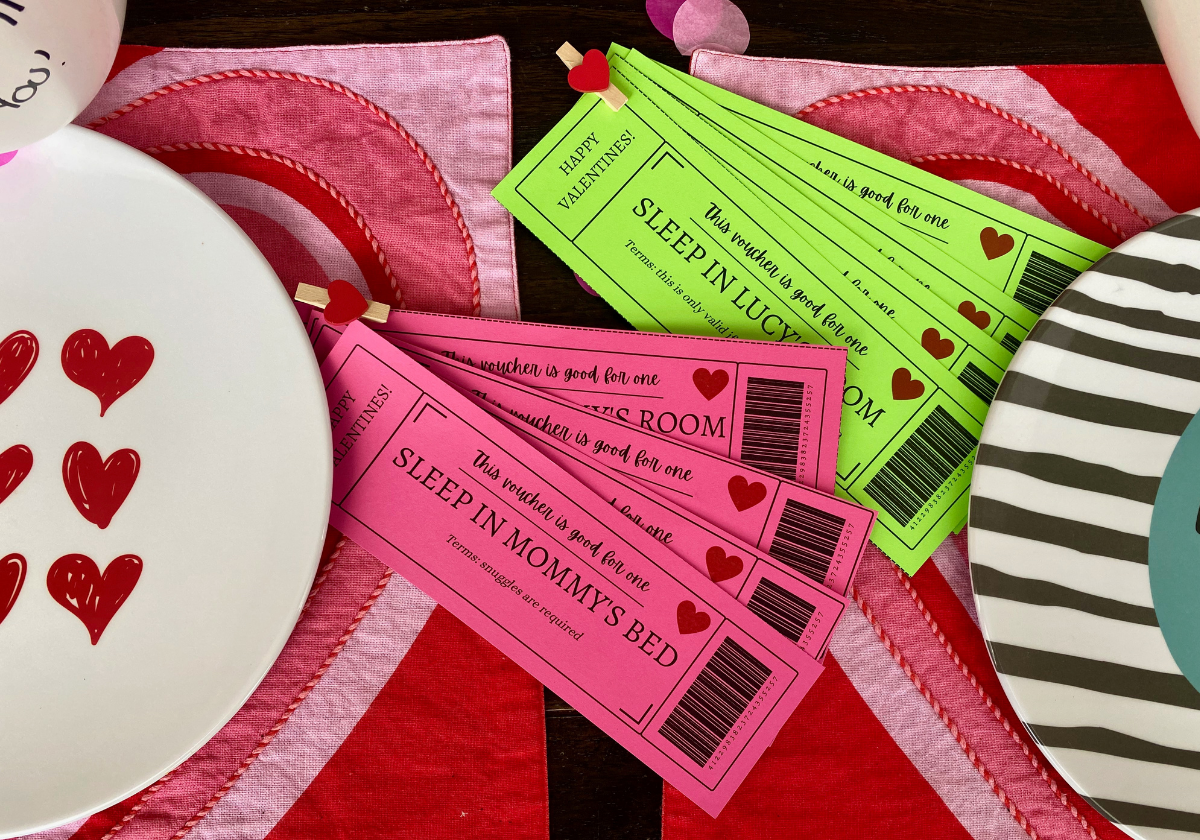 ❤️ blew up heart-shaped balloons (from the Dollar tree) and tied a cluster of 5 to a popsicle stick, making each kid a heart-shaped balloon bouquet.
❤️ Wrote a "love note" to all my loves right on the loose balloons in Sharpie.
❤️ gave the kids some "coupons" for some things they like to do that I usually tell them no or tie a condition to (sleeping in my bed, sleeping in each other's rooms, having a random movie night). They thought these were the coolest and proceeded to start making their own with the scratch art pack I bought them (also from the Dollar Store). Dad may have gotten a few as well ;) ***use our FREE printable to print out your own love coupons****
❤️ pulled out the Valentine's Day plates and place mates that we only use once a year and made heart-shaped pancakes for breakfast. I love how much delight a little food coloring and a shaped pancake can bring!
That's it! Simple but sweet. For the kids' school Valentine's this year, my 9-year-old wanted to bring in candy and my 5-year-old son wanted to bring in Pirate's Booty. Look how cute these Valentine's Day tags turned out!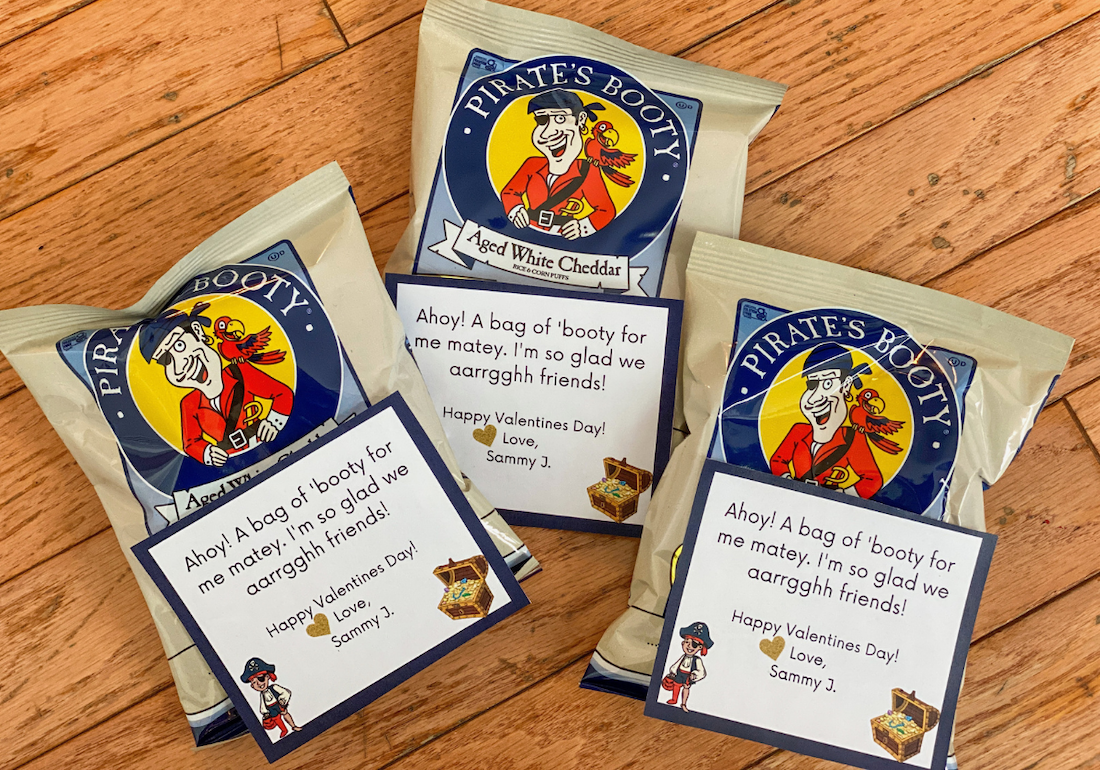 I know I'm often scrambling for a simple, last minute Valentine's Day idea that doesn't involve giving kids a sugar high, so I wanted to share these printable labels with you in case you'd like to give out some Pirate's Booty for Valentine's Day. I suggest using a card stock when printing these.
You can download your free Pirate's Booty Valentine's Day card and Valentine's Day Coupons HERE. Just navigate to the Valentine's Day folder, download, print and enjoy!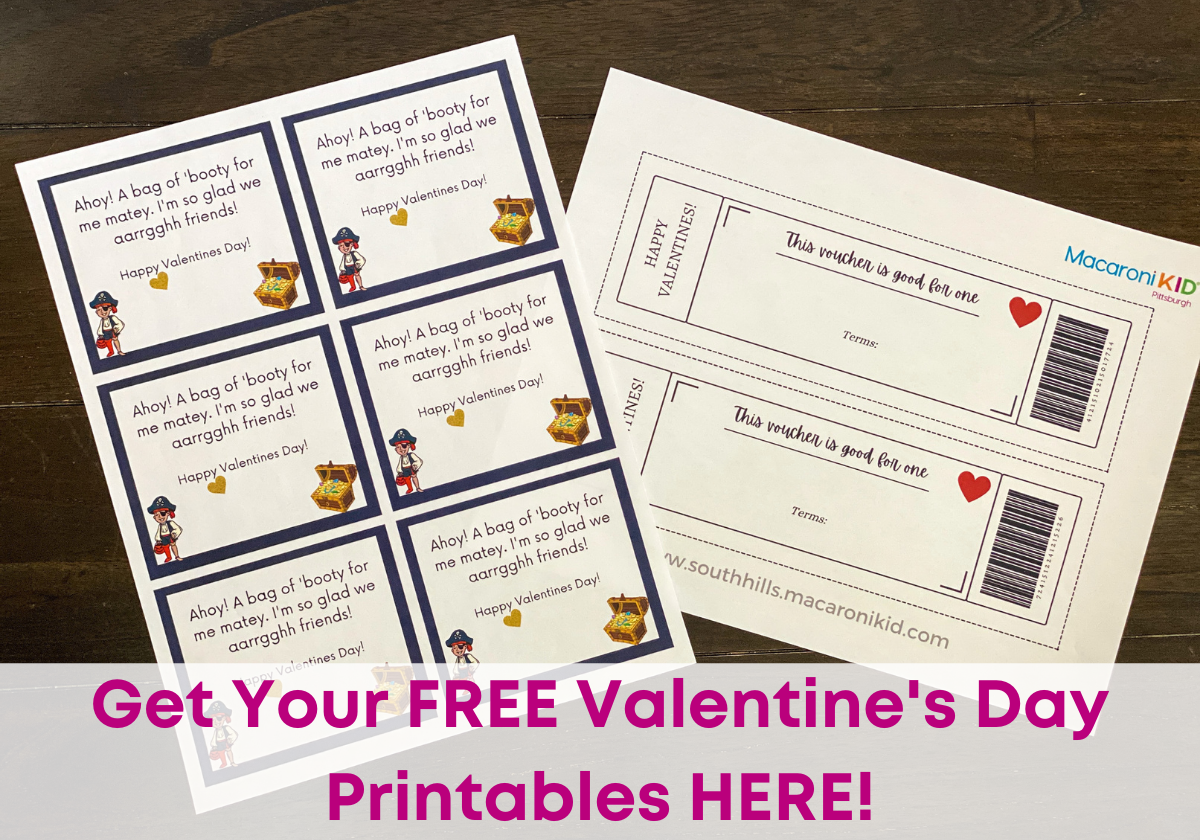 Let us know what you are doing today for your little sweeties. Tag us on social media with your creative ideas or use #pghmackid, and we'll share it in our stories for other local mama's looking for some last minute idea's. Don't forget to check out our Valentine's Day highlight on Instagram to see some fun ways to celebrate today with your kids in Robinson and Pittsburgh West!