As the summer nights come and go, I'm always surprised by how many people I meet who have never had s'mores or even know how to make one. Perfect s'mores should be made from jet-puffed marshmallows, slow toasted to a golden brown over hot coals from a wood burning fire. From there, the marshmallow should be sandwiched between fresh, crisp graham crackers covered with an even layer of melted chocolate. Delicious!!! In honor of National S'more Day on August 10th, I thought I would share some pro-tips and how-to on making the perfect s'more.
Supplies:
Jet-puffed marshmallows
Graham crackers
Chocolate bars (we use Hershey's)
roasting stick
wood burning fire
napkins
1. For starters, I'm pretty adamant about making s'mores over a wood burning fire, not gas. Don't get me wrong, I've been known to make s'mores over gas, in an oven, on a stove (both gas and electric), in the microwave and even over a handy-dandy s'mores maker. Nothing makes s'mores better than a wood burning fire! Get your fire started and let it burn until your flames are low, and you are left with chunks of hot coals.
2. Once your coals are nice and hot, prep your s'mores by taking a graham cracker and breaking it in half, so you have 2 squares. Next, you want to completely cover one of the graham cracker halves with chocolate. If you are using a standard Hershey's bar, you will be using 4.5 chocolate rectangles. Set your smore's setup on the ledge of the fire pit, so the chocolate softens up while you are toasting your marshmallow.
3. Take 2 jet-puffed marshmallows, the regular round ones, and place them on your skewer one by one, with your skewer piercing from flat end to flat end.
4. Position your marshmallows about 6 inches above hot coals. If you hold them directly above a flame, it is very possible you will end up with black, charred marshmallows. Keep an eye on your marshmallows and rotate them slowly. After about a minute you will notice them puffing up and even starting to bubble slowly on the outsides. This is what you are going for! Resist the urge to pull your marshmallow away and continue to rotate it until you achieve a bubbly, golden brown consistency and your marshmallow is almost double in size. At this point, the center of your marshmallow should be really gooey, so you may need to rotate it a little quicker, so it doesn't fall off into the fire.
5. Remove your toasted marshmallows from the fire and still using your skewer, place them on top of the graham cracker that is topped with chocolate. Using the other graham cracker half, gently sandwich the marshmallows as you slowly pull out the skewer and move it to a safe place where no one can get burned or poked by it. By now you should have a perfect s'more that is ready to eat! Make sure you have your napkins or wet wipes nearby to clean up this sticky treat and enjoy!
Want to try s'mores another way? Check out some of these variations: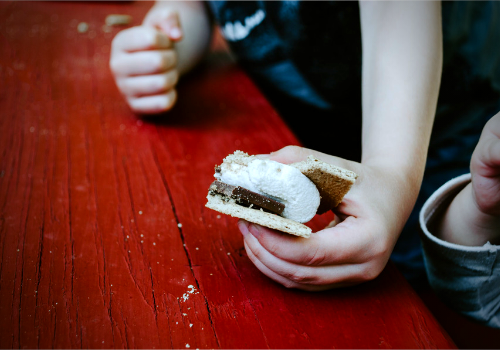 We Want S'more! Try This Sweet S'mores Buffet at Your Next Campfire