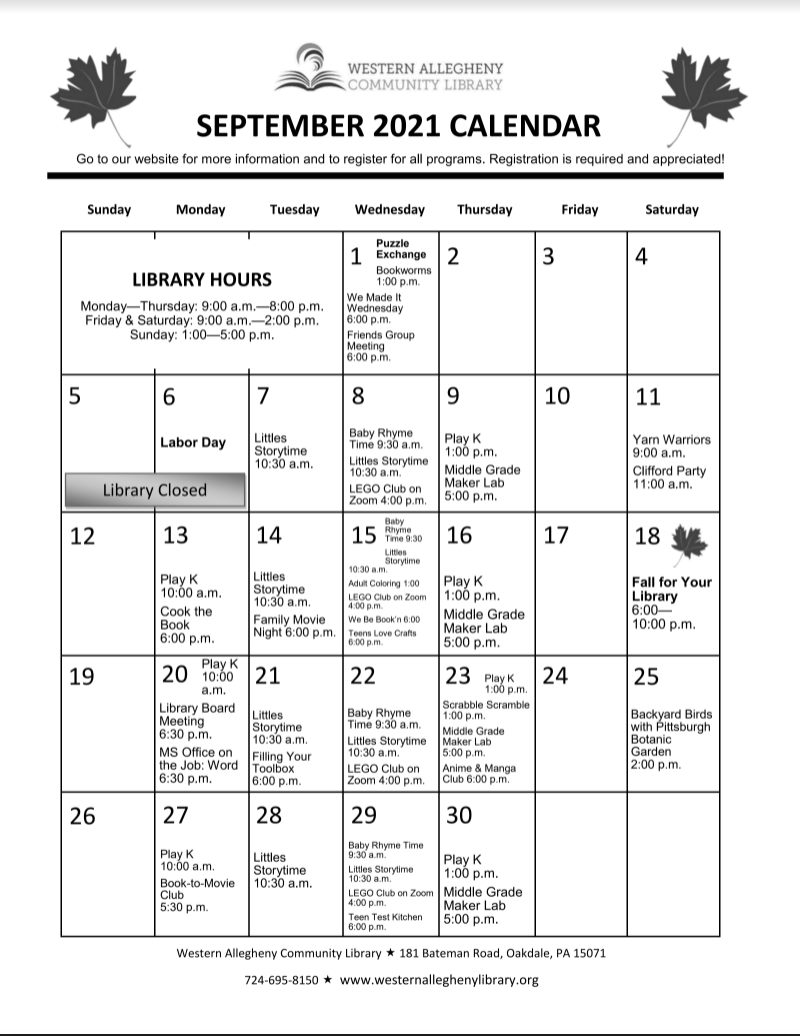 Western Allegheny Community Library ★ 181 Bateman Road, Oakdale, PA 15071
724-695-8150 ★ www.westernalleghenylibrary.org
PROGRAM HIGHLIGHTS
Family Movie Nights
2nd Tuesdays, 6-7:30pm
Need a night out without breaking the bank? How about a family movie night?! Bring your whole family and meet your friends at the library for new release family-friendly movies on our big screen. Free snacks and drinks will be provided. Chairs will be available, or come in your PJs and bring your sleeping bag for extra fun! See our website for movie choices and to register.
Middle Grade Maker Lab: Design, Create, Play Series
Thursdays, September 9-30th, 5-6pm
Design, create, and play with new gadgets provided by the state library for this Maker Lab series! Get your make on with 3Doodlers, paper circuits, origami circuits, and Gobox Pro: LED Lighting. For middle graders in grades 4—7. Please register once online on the first day of the series; limited space. The kit and supplies for this series were funded by a Library Services and Technology Act (LSTA) grant from the Institute of Museum and Library Services as administered by the Pennsylvania Department of Education's Office of Commonwealth Libraries.
Adult Programs
Fall For Your Library
Saturday, September 18th, 6-10pm
Did you miss last year's holidays? Join us for a holiday RE-do at our annual Fall for Your Library event! FFYL is our largest fundraiser and the community's premier wine tasting event. This year we are featuring special holiday-themed food and wine pairings, games, auctions, and live music by Smells Like the 90's. Tickets are $50, available for purchase online at westernalleghenylibrary.org or at the library. FFYL will take place on Saturday, September 18, at 6:00—10:00 p.m. at Celebrations, 8110 Steubenville Pike, Imperial, PA.
Puzzle Exchange
Wednesday September 1st
Back by popular demand - bring a puzzle, take a puzzle! Bring in a gently used, complete puzzle and take one from our stack to share. Drop in any time we're open to make your trade, and then let the puzzle fun begin!
Filling Your Toolbox
Tuesday, September 21, 6-7pm
Whether you're just staring out on your own or you've lived somewhere for years, every home should have a well-stocked toolbox. But what tools do you need? Our library's maintenance man will show you which hand tools are handiest, and what kind of home repairs they can be used for. Attendees will be entered into a drawing to win a new toolbox complete with the essentials!
Cook the Book
2nd Monday's 6-7:30pm
It's the tastiest book club ever! Come together to share food & conversation with recipes made from a single cookbook. See each month's chosen title and register online. Copies of cookbooks will be available for checkout at the library.
Adult Coloring Klatch
3rd Wednesdays, 1-3pm
Research has proven that coloring reduces stress, fosters creativity, and improves concentration. It's also a great way to meet new people at the library! Join us on the 3rd Wednesday of each month for some creative & colorful times. All supplies provided; drop in as your schedule allows.
Scrabble Scramble
4th Thursdays, 1-3pm
Attention logophiles! (That's "word lovers" for the rest of us…). Exercise your B-R-A-I-N (7 points) by playing Scrabble with other like-minded adults. Bring your own game board or use ours; drop in on the 4th Thursday of each month as your schedule allows for words with *new* friends! Note: Will meet on 3rd Thursdays in November & December.
LOVE YOUR LIBRARY MONTH September 2021
We are thrilled to announce the return of Love Your Library month for 2021! Thanks again to the generosity of the Jack Buncher Foundation, every donation made to Western Allegheny Community Library throughout the month of September will receive a prorated MATCH - up to $500 per donor! With an entire month to "Love Your Library," there are many ways to get involved & double the impact of your support. See our website at westernalleghenylibrary.org for details and get ready to share the love this September!

Please go to our website to sign up for all programs. Registration is required and appreciated!